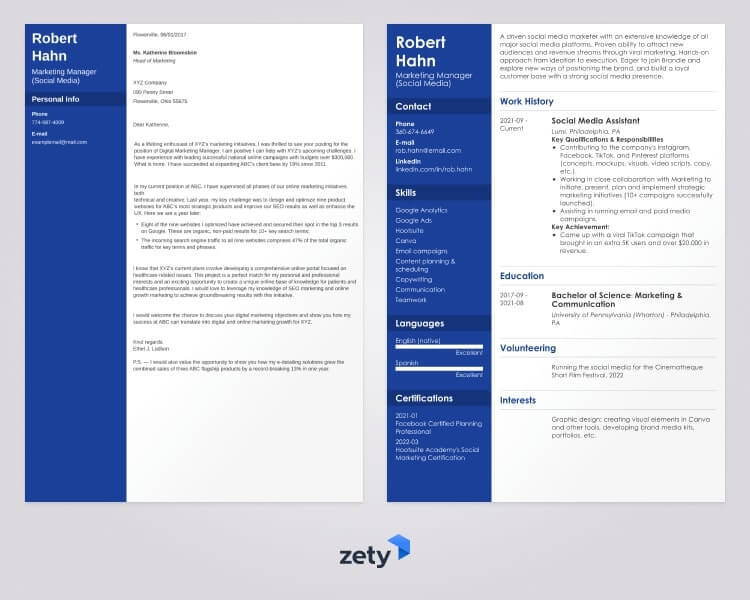 Why is it important to write a thank you letter after an interview?
Some employers indeed expect a thank you letter after an interview. It's a gesture that reinforces your interest in the role, while also showcasing good manners. When you write a thank you note after an interview, you gain yet another opportunity to influence your potential employer's decision. If you write a thank you note, you can reiterate your interest in and qualifications for the position.
A handwritten thank you letter offers a personal touch and has the potential to set you apart from other candidates as many people don't mail letters anymore. However, it can take days for a mailed letter to arrive. The hiring process can move quickly so it's recommended to always send a thank-you email, even if you decide to also send a handwritten letter. When you email, you can connect with the hiring team much more quickly and influence their decision before they complete the hiring process. Send your thank you email no more than 24 hours after the interview.
Sample Interview Thank-You Email
Thank you so much for taking the time to meet with me and talk about the position of the Senior Digital Marketing Specialist with ABC Inc. yesterday. It was a pleasure to learn more about your approach to growing organic traffic.
Our conversation made me even more excited to join ABC. What interested me in particular was how sharply your efforts are focused on the actual reader experience, not just technical SEO issues.
I was thinking about what you said regarding your plans to expand the email subscribers base by offering free bonus content downloads in the upcoming quarter. In my current role as Content Marketing Specialist with XYZ I found that using contextual click-triggers for bonus downloads within blog posts increased the subscription rate by 35% compared to regular pop-ups. I hope that helps!
How to Write a Thank You Email or Note after an Interview
You must always send an interview thank-you email no later than 24 hours after the interview. If you interivewed with several people, send a personalized thank-you note to each of them. Be genuine, thank them for the opportunity, reiterate your interest, and remember to refer to what you discussed during the interview itself.
1. Create a clear subject line
2. Open with a personal greeting
3. Express your appreciation
(To see what I mean, check out the wrong example above again. See how many personal pronouns the candidate used. It doesn't read like a sincere "thank you," more like "I know I'm awesome.")
4. Restate that you're interested in the job
5. Refer to something specific you discussed during an interview and make an offer
6. Say you can provide additional information and remind them about the established response deadline
7. Close with a professional sign-off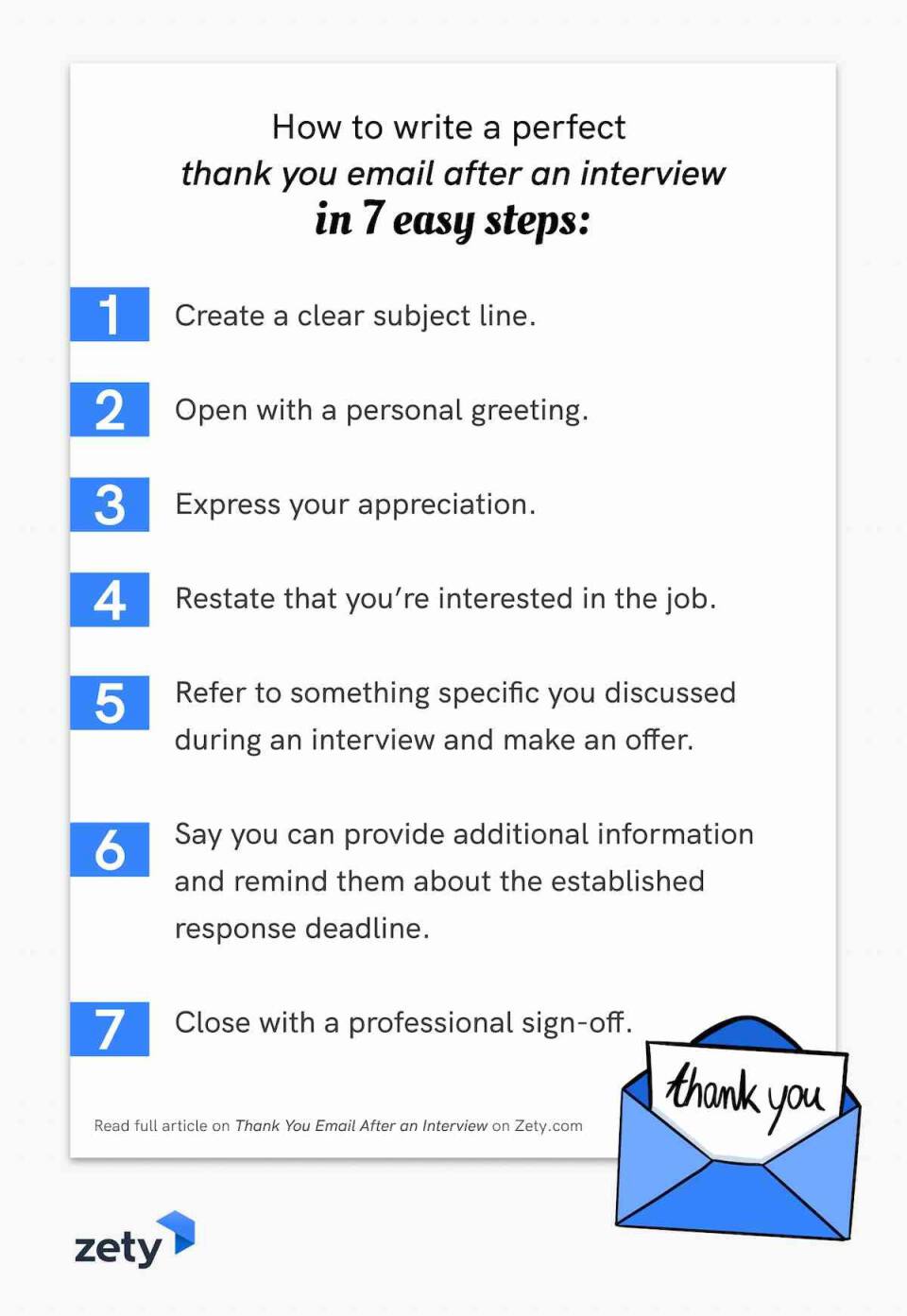 Alright. Enough theory. See our customizable examples of thank you notes after an interview, choose one that fits your situation best, fill in the gaps with details, and hit "Send!"
Saying Thank-You to a Colleague
Is formally thanking a colleague who goes above and beyond required by office decorum? Not really. And yet, it's a professional gesture that won't go unnoticed. If you've ever felt unappreciated after helping a coworker succeed, especially if you were the unsung hero, then you already understand why a thank-you note for a colleague is a powerful tool for cementing working relationships.
Hi [Name], Thank you for [specific statement about what you're thanking the recipient for]. [Sentence about why the person's contribution deserves your gratitude.] [Sentence explaining the positive effect the recipient's contribution had.]
Thank you for helping me put the final touches on the launch announcement video. You gave up some of your weekend to make it happen, and I just want you to know how much I appreciate your creative talents and energy. Your contributions made a difference, and we not only hit our deadline but created something awesome.
Thanking Friends and Family
Sometimes, we forget to thank the people closest to us for the things they do or give to us. When a heartfelt face-to-face thank-you isn't possible, a brief letter, card, or email is an excellent way to show that your friends' and family members' contributions haven't gone unnoticed.
Thank you for [specific statement about what you're thanking the recipient for]. [Sentence or two about why the recipient's contribution was meaningful to you.] [Optional: A sentence praising the recipient for their kindness, generosity, etc.]
Thank you for your help with the family reunion—you're my hero! The time you put into booking the hall and sending out invitations to family members, not to mention organizing the potluck, took much of the strain off me this year. I learned that, when I have someone to help me, the Nolan family reunion is not only manageable but fun. If you hadn't jumped in to save the day, I might have ended up canceling it altogether and missing the chance to reconnect with everyone.
Source:
https://www.indeed.com/career-advice/interviewing/sample-thank-you-letter-after-interview
https://zety.com/blog/thank-you-email-after-an-interview
https://www.grammarly.com/blog/how-to-write-a-thank-you-letter/
4 Sample Thank You Emails To Send After an Interview
Why are thank-you notes important?
There are many reasons why sending thank-you notes is important. Not only is it good business etiquette, but it also allows you to express your interest in the position and demonstrate that you are a good listener. Thank-you notes can also accomplish the following.
They help you stand out.
A thank-you email should be sent within 24 hours of the interview, while you're still fresh in the interviewer's mind. Keep the content of the email brief – no more than two or three paragraphs – and reference particular points from the conversation.
"I briefly discussed my hometown, but what was amazing was that the candidate remembered my hometown and found a way to include it in his follow-up," Ross said. "He said his brother would be passing through [my town], so he made sure to tell him to pick up a cake from a popular bakery there. This not only showed me he was a good listener but also that he was willing to go above and beyond by doing research. It left me with a pretty good taste in my mouth (pun intended)."
They showcase business etiquette.
According to Jodi RR Smith, author and president of Mannersmith Etiquette Consulting, sending a note could show that you know other proper business etiquette, like standing when a client enters the room, not chewing gum in front of the CEO, holding doors open for others, arriving to meetings on time and dressing appropriately.
They demonstrate your interest in the role and organization.
"First, it is a basic appreciation of the time the interviewer spent with you," Smith said. "Second, it is a signal to the interviewer that you are aware of higher-level interpersonal skills. Lastly, the thank-you note expresses your ongoing interest in the organization and the job opening."
Did you know? According to a study by iCIMS, 63% of recruiters said they would be more likely to hire a candidate who asked for more money and sent a thank-you note than a candidate who asked for less but did not send a note.
What should be included in a thank-you letter?
When writing a thank-you letter, keep it clear, straightforward and shorter than four paragraphs. Amanda Augustine, career advice expert for TopInterview and TopResume, cautioned against recapping your entire resume in your thank-you note, since the interviewer has already reviewed it and discussed it with you during the interview. A basic summary of your qualifications is appropriate. [Related: Interview Skills That Will Get You Hired]
As with your resume and cover letter, customize your thank-you note. Double- and triple-check it for grammatical and spelling errors. A typo-filled follow-up can easily ruin the stellar impression you made during the interview. If you met with multiple people, send one note to each person.
What to include in a thank you letter after an interview
Subject line
If you email your thank you note, you need a subject line that easily conveys your message. A short and straightforward subject line like " Thank you for your time " can work for most post-interview thank you notes. If you plan to write a more informal message, try something like " Great to meet you today. "
Personalized greeting
Rather than starting to type your message right away, always begin thank-you emails with a salutation. " Hello [Interviewer name] " or " Dear [Interviewer name] " is ideal for most thank you notes. Remember to use the name that your interviewer provided when you met, which may be a first name or a title.
Note of appreciation
When you begin writing the body of the message, start with an expression of your gratitude. Thank the interviewer for taking the time to meet with you. Include the job title here for clarity, as many hiring managers may be considering candidates for multiple positions at once. For example, you can state, " Thank you for taking the time to discuss the marketing manager position with me today. "
Recap of your qualifications
Next, provide a short recap of your experience and background. The interviewer should already be aware of these qualifications after reading your resume and meeting with you, so this section should be brief. Connect your qualifications to the position and its unique requirements to express why you are such a strong candidate for the job. For example, you can write, " My social media and search engine marketing expertise would make me an excellent candidate for this marketing role. "
Prompt to take the next step
To close the thank you note, encourage the hiring manager to take the next step in the hiring process. Reference what you learned during the interview to complete this section since you may need to provide references or complete a second interview to get the job. For example, you can write, " Please don't hesitate to contact me to arrange a follow-up interview. "
Contact information
Finally, provide your contact information. The interviewer should already have these details on file but listing them in your email can make it easier for the hiring team to contact you for additional steps. Include both your email address and phone number below your closing to streamline the hiring process.
So, you just interviewed for your dream job. Now what? No need to second guess on what ways you can put your best foot forward and keep your resume at the top of your interviewers mind. This video will be your guide on taking that next step!
Source:
https://www.businessnewsdaily.com/5578-sample-thank-you-letters.html
https://www.indeed.com/career-advice/interviewing/sample-thank-you-letter-after-interview
https://www.jobstreet.com.sg/career-resources/job-hunting/tips-on-saying-thank-you-after-a-job-interview/